Read the full-page New York Times article about Inner Telescope.
See the artworks in the Inner Telescope series.
---
INNER TELESCOPE
Eduardo Kac creates artwork in outer space with astronaut Thomas Pesquet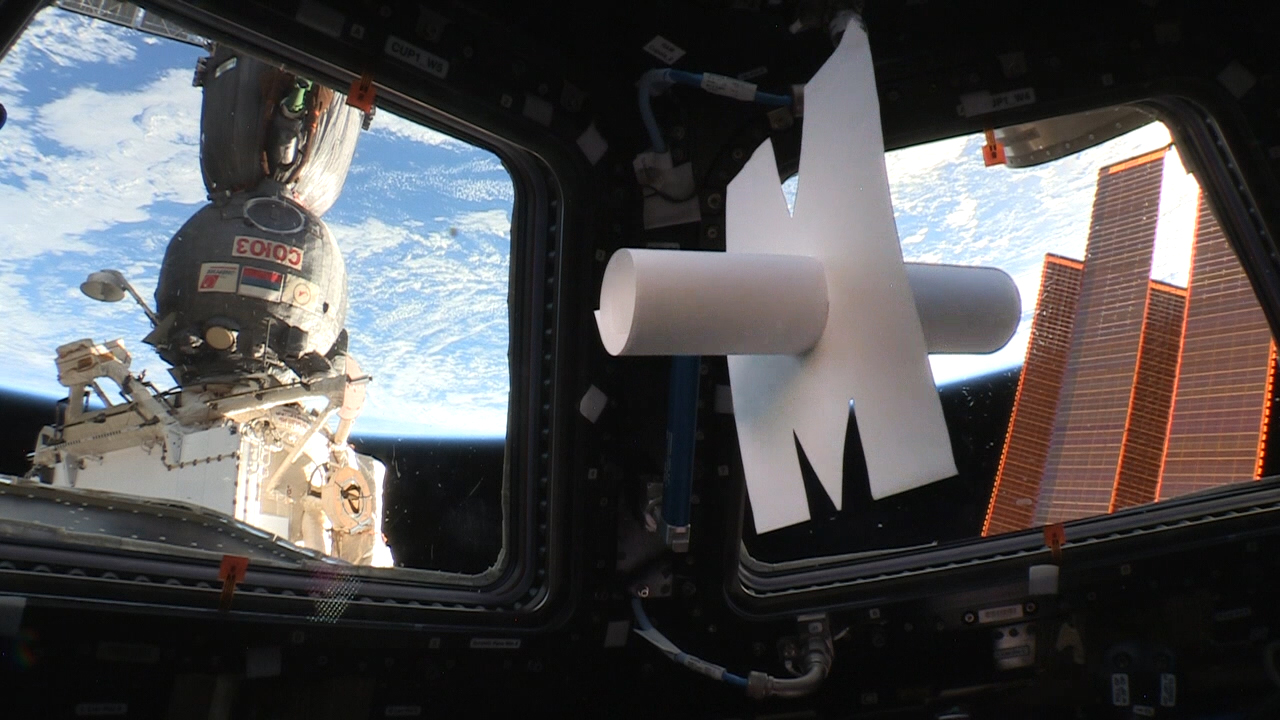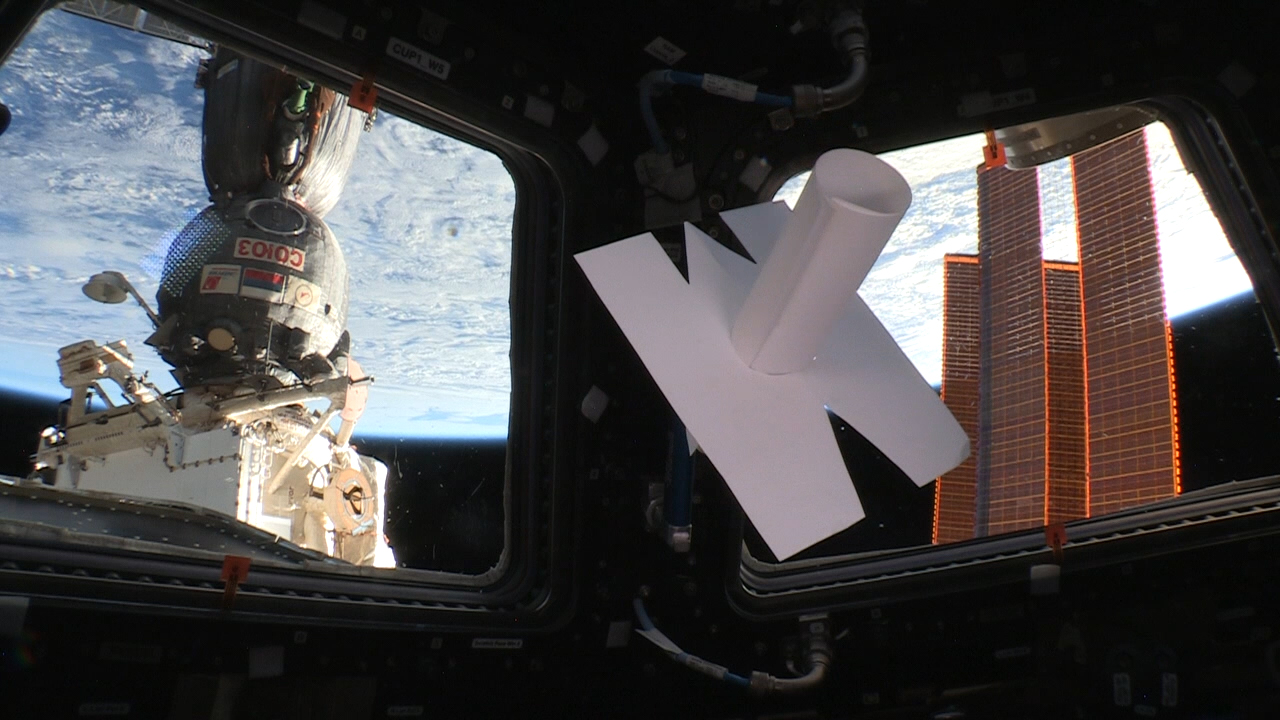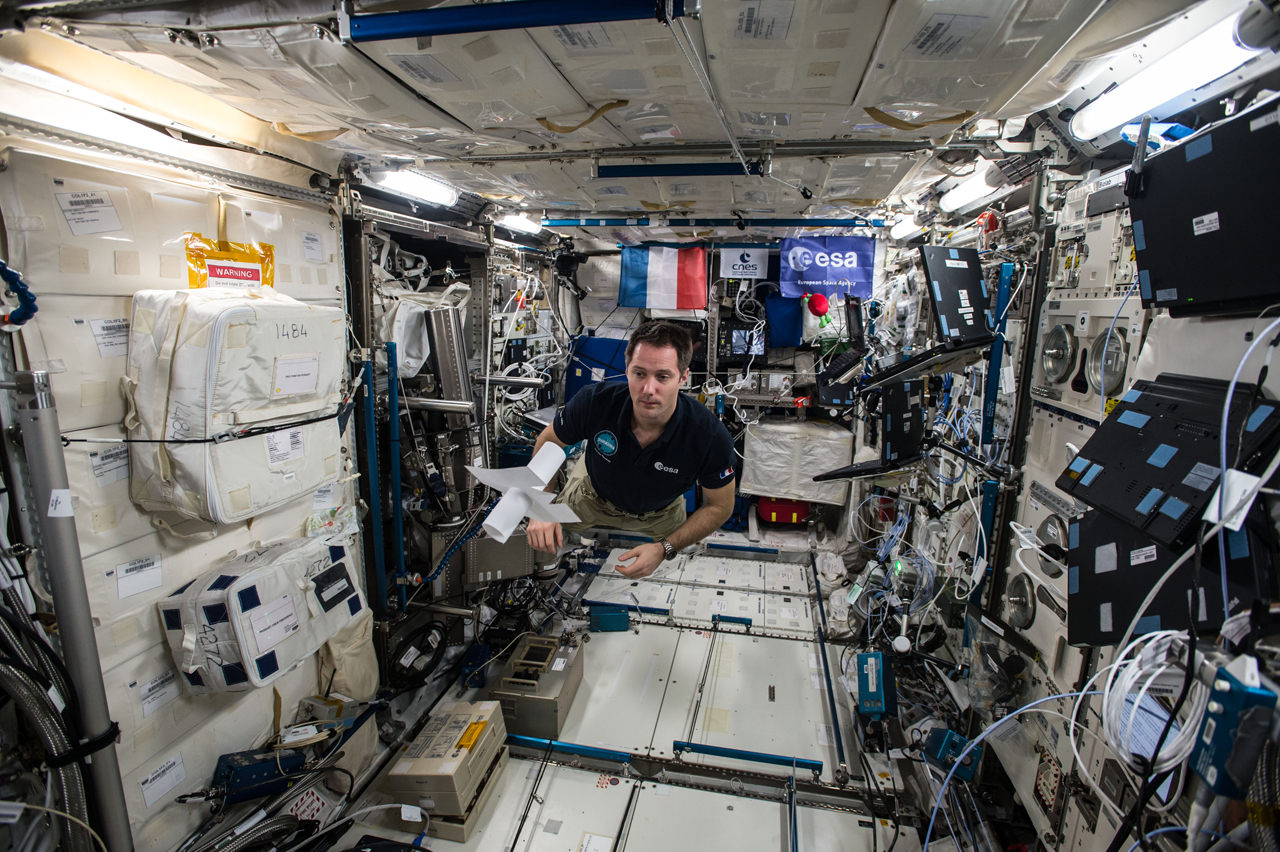 Inner Telescope floating in the International Space Station (ISS), in orbit around the Earth.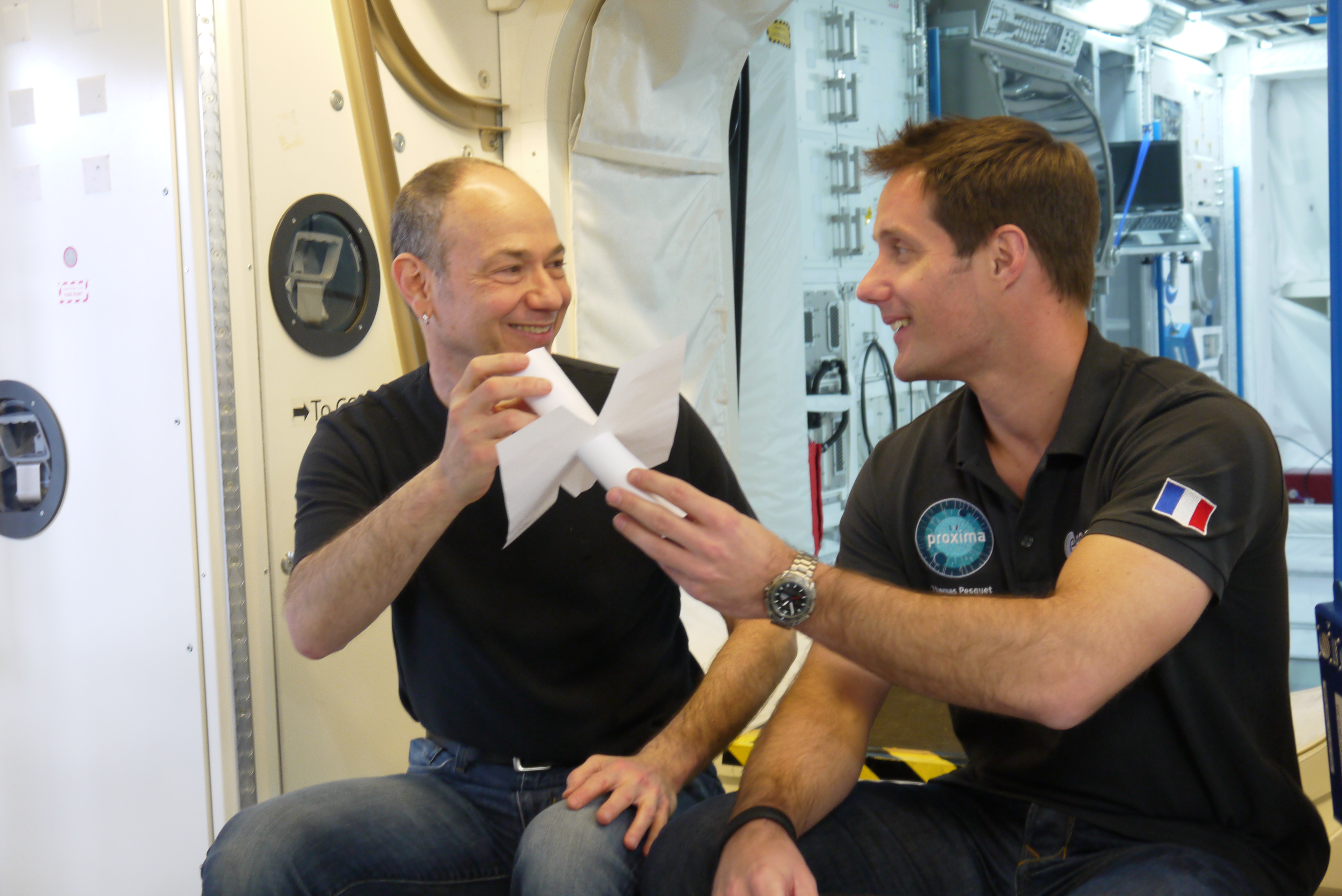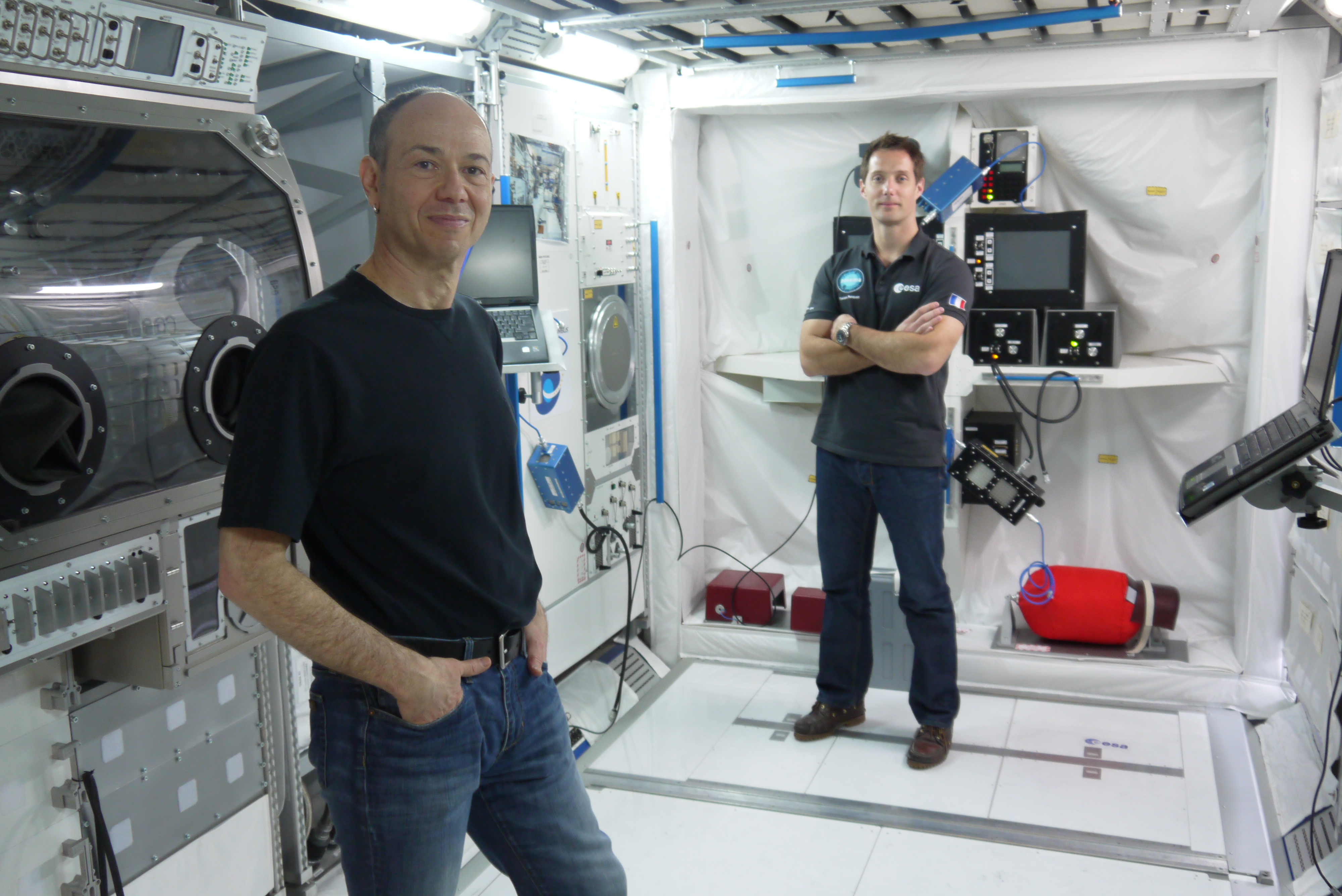 Kac and Pesquet at the European Astronaut Center, Cologne, 2016. Photos: Virgile Novarina.
Eduardo Kac has created an artwork aboard the International Space Station (ISS); French astronaut Thomas Pesquet realized it on Saturday, February 18th, 2017.
Kac's work, entitled Inner Telescope, was specifically conceived for zero gravity and was not brought from Earth: it was made in space by Pesquet following the artist's instructions.
The artwork was made from materials already available in the space station. It consists of a form that has neither top nor bottom, neither front nor back. Viewed from a certain angle, it reveals the French word "MOI" [meaning "me", or "myself"]; from another point of view one sees a human figure with its umbilical cord cut. This "MOI" stands for the collective self, evoking humanity, and the umbilical cord cut represents our liberation from gravitational limits.
Inner Telescope is an instrument of observation and poetic reflection, which leads us to rethink our relationship with the world and our position in the Universe.
Since the 1980s, Eduardo Kac has been theorizing and producing art and poetry that challenge the limits of gravity. His Space Poetry manifesto was published in 2007. Now, in 2017, Kac finally realizes the dream he has pursued for more than 30 years: the creation, production and experience of a work directly in outer space.
The astronaut's mission is entitled "Proxima" and is coordinated by the European Space Agency (ESA). Kac's project is coordinated by the L'Observatoire de l'Espace, the art-science lab of the French Space Agency.
---
Exhibitions
Festival Sidération
Centre National D'Études Spatiales – CNES, Paris
March 23 – 26, 2017
Télescope intérieur
Eduardo Kac (solo show)
Galerie Charlot, Paris
June 8 – July 27, 2017
Em órbita: Telescópio Interior
Eduardo Kac (solo show)
Galeria Luciana Caravello, Rio de Janeiro
July 20 – August 19, 2017
Inner Telescope
Eduardo Kac (solo show)
Ars Electronica, Linz, Austria
September 7 to 11, 2017
Screenings

French Space Agency [Centre National d'Études Spatiales – CNES], Paris, "Inner Telescope" (April 20, 2017)
Printed Matter, New York (April 27, 2017)

United Nations Church Center, New York, (May 17, 2017)
The Seoul Art Space Geumcheon, Seoul Foundation for Arts and Culture, Seoul, "Da Vinci Creative 2017" (September 01 to December 30, 2017)
International Contemporary Art Biennial – BIENALSUR, Buenos Aires (November 01 to December 30, 2017)
---
"Inner Telescope, a Space Artwork by Eduardo Kac", documentary by Virgile Novarina (French, with English subtitles), 2017.
---
---