ORDER FROM:
---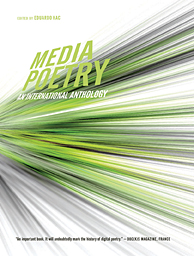 Media Poetry: an International Anthology
(Second Edition)

Eduardo Kac, editor


ISBN 1841500305
Paperback 296 pages
Published October 2007
Publisher: Intellect, Bristol
Price £19.95, $39.95

TABLE OF CONTENTS

Google Preview


---
The long-awaited new, revised and enlarged edition is here!
Here is the eagerly awaited new edition of Media Poetry: An international Anthology, reproducing every one of the fundamental texts from the first, 1996 edition, and brought completely up to date and expanded by poet and visual artist Eduardo Kac. It is a comprehensive volume, offering a global view of experimental poetry that requires contemporary media to be created, presented, and read. With a new introduction by Kac and featuring 19 chapters, more than twice as many as the 1996 edition, it also includes a Media Poetry Chronology and a Selected Webliography, giving the reader access to the work of 44 poets and 20 sites that collect, promote, and discuss media poetry. Authors documented originate from or work in Europe, Asia, South and North America, Australia, and the Middle East. This second edition of an anthology long considered a classic is certain to become the definitive book on media poetry for our time.
Media Poetry: An international Anthology is the first international anthology to document a radically new poetry which takes language beyond the confines of the printed page into a non-linear world of multimedia, interactivity and networking. This anthology includes extensive documentation and discussion of digital poetry and expands the range of contemporary writing to encompass poems created with video, holography, skywriting, and even biotechnology .
The work of the poets discussed in this book embraces new technologies to explore a new syntax made of linear and non-linear animation, hyperlinkage, interactivity, real-time text generation, spatiotemporal discontinuities, self-similarity, synthetic spaces, immateriality, diagrammatic relations, visual tempo, biological growth and mutation, multiple simultaneities, and many other innovative procedures.
This media poetry, although defined within the field of experimental poetics, departs radically from the avant-garde movements of the first half of the twentieth century, and the print-based approaches of the second half. Through an embrace of the vast possibilities made available through contemporary media, the artists in this anthology have become the poetic pioneers for the next millennium.


---
"Kac's anthology displays a range of approaches toward literacy dynamism in Europe and the Americas across four decades."
Chris Funkhouser, Electronic Book Review

"An important book. It will undoubtedly mark the history of digital poetry."
DOC(K)S magazine, France

"Making space through and in and of language distinguishes the kinetic poets featured in this important book."
Michael Joyce, Othermindedness: The Emergence of Network Culture

---
Back to Kac Web