The 5min documentary 16mm film is available in hi-res digital form from:
Le peuple qui manque
18, rue Malar
F - 75007 Paris
Tel. : +33 (0)1 44 18 00 82
lepeuplequimanque@gmail.com
http://www.lepeuplequimanque.org
For more information, please see: http://www.lepeuplequimanque.org/distribution-2?brand=37
---
PERFORMANCES (1980 - 1982)

In the early '80s Eduardo Kac gave weekly performances on the streets of Cinelandia, the Bohemian center of Rio de Janeiro. He also performed at theaters, galleries, and on beaches. He concluded his performance project with a celebration of the human body staged on Ipanema Beach, on February 13, 1982.
This performance coincided with the sixtieth anniversary of historical Semana de Arte de 22 -- a modernist presentation of art and literature which is a landmark of Brazilian culture.
For more information on Kac's performances, please see the books Escracho, edited by Eduardo Kac (Rio de Janeiro: Sai Dessa Lama, 1983) and Antolorgia, edited by Eduardo Kac and Cairo Trindade (Rio de Janeiro: Codecri, 1984). These books can be requested through interlibrary loans from many American institutions, including University of New Mexico, University of California, Berkeley, and Princeton University.
Escracho can also be seen in the artist's book collections of the following institutions: Museum of Modern Art, in New York; the Flaxman Artist's Books Collection, at The School of the Art Institute of Chicago; and Houghton Library, at Harvard University.
The three photographs included below were taken by Brazilian photographer and videomaker Belisario Franca during the Ipanema Beach performance, on February 13, 1982.
---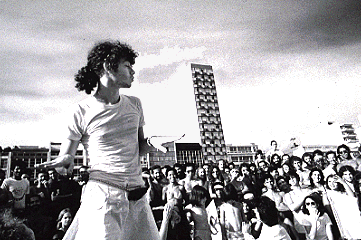 ---
An article about these performances is available here (Portuguese only): "Eduardo Kac e a escrita do corpo no espaco." Bianca Tinoco, Revista Concinnitas, n. 17, 2010, pp.120-127.
See also: "L'huissier de la maison de l'homme", par Hugues Marchal, in: Elena Giulia Rossi, ed. Eduardo Kac : Move 36 (Paris: Filigranes Editions, 2005), pp. 19-23 (French) and pp. 73-77 (English).
---
Back to Kac Web