Title: It's not easy being green!

Date: 2003

Specifications: 28 pages, black and white

Details: Artist's book, signed and numbered

Size: 21.5 X 14cm (8,5 X 5.5 in)

Edition size: 300

Language: English

Printing process: Offset

Synopsis: It's not easy being green! focuses on the poetic and humorous public responses to Eduardo Kac's "GFP Bunny" — which involves the creation and social integration of a green glowing bunny named Alba. The book is a kaleidoscopic montage of images and texts, including cartoons, novel excerpts, radio limericks, children's emails, TV broadcasts, headlines, and webpostings. Every page includes contributions from authors other than the artist — from France to Australia, from Russia to Colombia — truly reflecting the multifaceted reception of "GFP Bunny". It's not easy being green! is exemplary of Kac's continuously evolving reflection on the relationship between humans and animals.


Order from Black Box Gallery (Copenhagen) or Laura Marsiaj Gallery (Rio de Janeiro).
---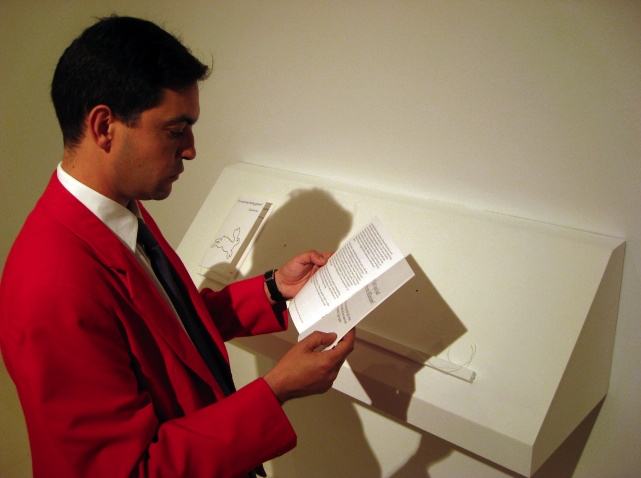 It's not easy being green at Instituto Valenciano de Arte Moderno (IVAM), Valencia, Spain (September 27 to November 11, 2007) ["Eduardo Kac", A mid-career survey curated by Angel Kalenberg]

---
The book can also be found at:
Laura Marsiaj Arte Contemporânea, Rua Teixeira de Melo 31-C, Ipanema Rio de Janeiro, Brazil
Tel/Fax: 21-2513-2074 -- lmarte@terra.com.br

Librairie Vent D'Ouest (au Lieu Unique) : 2, rue de la Biscuiterie, 44000, Nantes, France
Tél : 02 40 47 64 83 -- Fax : 02 40 47 75 34 -- <vent.douest-lieu.unique@wanadoo.fr>
---

Special thanks to Creative Capital, New York, for assistance in the production of this book.


---
It's not easy being green! was also featured in the following exhibitions:

Ronald Feldman Fine Arts, New York, "American Dream: A Survey" (February 22 – March 29, 2003)

Julia Friedman Gallery, Chicago, "Works on Paper", (March 21 - April 26, 2003)

The Wandering Library is an itinerant project initiated by the Centro Pace, the Archivio Giovani Artisti del Comune di Venezia and The International Artists' Museum. The opening of The Wandering Library was held at Museo Ebraico in Venice on 15th June 2003. After the 28th of August, this unique collection of artists' books traveled to: Mainz, Germany, Umbria, to the United Nations Center, New York, to the New National Library in Alexandria, Egypt, home of the first library, and to Israel.

... como perros: humillación trauma y producción del sujeto contemporáneo, La Casa Encendida, Madrid, Spain (July 8 to August 2003)

Face/off – Body Fantasies, Kunst und Kunstgewerbeverein, Pforzheim, Germany (March 14 to May 23, 2004)

Rabbit Remix (solo show), Galeria Laura Marsiaj, Rio de Janeiro, Brazil (September 19 to October 21, 2004)

Eduardo Kac (solo exhibition), Fundación Telefónica, Buenos Aires, (March 27 to May 28, 2006)
Eduardo Kac, A mid-career survey (curated by Angel Kalenberg), Instituto Valenciano de Arte Moderno (IVAM), Valencia, Spain (September 27 to November 11, 2007)
---
Back to Kac Web