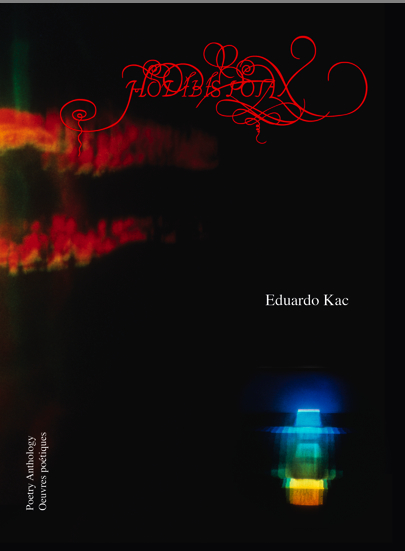 HODIBIS POTAX
Poetry Anthology

By Eduardo Kac

This book collects 25 years of Kac's experimental poetry, from 1982 to 2007. Published on the occasion of the solo exhibition Hodibis Potax, by Eduardo Kac, realized in the context of Biennale des Poètes en Val-de-Marne (Poetry Biennial, France), May 2007, the book includes all of Kac's groundbreaking holopoems and digital poems, as well as his proposals of and realizations in biopoetry. Completing the book is the previously unpublished text "Space Poetry", in which Kac articulates the new expressive possibilities of poetry in zero gravity.


Date: 2007
Specifications: 144 pgs, 37 color photos
Language: English/French
Publisher: Édition Action Poétique, Ivry-sur-Seine (France) and Kibla, Maribor (Slovenia)
ISBN: 978-2-85463-177-7

---
ORDER THIS BOOK FROM:
OR
Belles Lettres Diffusion Distribution (distributor)
25, rue du Général Leclerc 94270
Le Kremlin Bicêtre – France
Tel : 01 45 15 19 70
Fax 01 45 15 19 80
http://www.bldd.fr
Email: http://www.bldd.fr/contact/index.asp

Édition Action Poétique
36, rue Raspail,
94200 Ivry-sur-Seine
Phone: 01 49 59 88 00
Email: <actionpoetique@free.fr>

Biennale des Poètes en Val-de-Marne
11 rue Ferdinand Roussel, 94200 Ivry-sur-Seine
Phone. 01 49 59 88 00
Fax : 01 46 72 72 71 /
Email : <biennaledespoetes@free.fr>

Multimedia Center KIBLA
Ulica kneza Koclja 9, SI-2000 Maribor, Slovenia
tel: +386 2 2294012, 2294013, 2294022, 2294023
fax: +386 2 2294020
e-mail: peco@kibla.si


---
Eduardo Kac created holopoetry (holographic poetry) in 1983. In his holopoetry Kac explores the interactivity of the gaze and the appearance/disappearance of the text relative to the viewer's movement. Kac has developed new concepts such as «textual instability » and «fluid sign», which is neither a word nor an image but an entity in permanent transformation. This is possible because Kac writes his holopoems in an unstable space that changes according to the viewer's point of view. Kac has also created digital holopoems through which he has further expanded the richness of his poetic language. Kac seeks to create «a syntax of disruptive events; an animated language that evades and deflects interpretation.» Parallel to his holopoetry, since 1982 Kac has also created a body of work in digital poetry. In 1985 he started to create and publish dynamic poems online (through the Minitel system). All digital poems by Kac can be downloaded from his site: <www.ekac.org/multimedia. html>. In 2002 Kac wrote «Biopoetry», through which he proposed «the use of biotechnology and living organisms in poetry as a new realm of verbal, paraverbal and nonverbal creation.» As states Hugues Marchal (in La poésie, Flammarion, 2007) Kac's manifesto «Biopoetry» presents a list of twenty feasible proposals. Kac's biopoetry projects are in direct dialogue with contemporary developments in other fields, including biotechnology and cognitive ethology. Biopoetry reveals how our understanding of both «life» and «text» have changed in the twenty-first century, while creating a new field for the production and experience of poetry beyond traditional disciplinary barriers. In 2006-2007 Kac was poet-in-residence at the French Poetry Biennial (Val de Marne). Kac's poetry is collected in the bilingual book "Hodibis Potax" Édition Action Poétique, Ivry-sur-Seine (France) and Kibla, Maribor (Slovenia), 2007. Kac's pioneering 1996 anthology on poetry and new media was republished in a revised and expanded edition in 2007: "Media Poetry: an International Anthology" (Second Edition), Intellect Books, Bristol, United Kingdom (distributed in the US by University of Chicago Press). For more information, see: <http://www.ekac.org/media.html>.
---
See also the French/English DVD:




Eduardo Kac: Holopoèmes, Poèmes minitel, poèmes numériques, Biopoèmes

---
Back to Kac Web