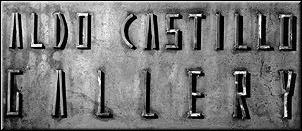 Eduardo Kac
---
ALDO CASTILLO GALLERY
233 West Huron Chicago, Illinois 60610
Tel 312-337-2536 Fax 312-337-3627
artaldo@aol.com
---
Contact:

Aldo Castillo Gallery

ATTN. Julia Friedman

Phone: 312-337-2536
EDUARDO KAC OPENS SOLO SHOW AT ALDO CASTILLO GALLERY, CHICAGO
Exhibition: Entitled "Language Works", the exhibition is comprised of 13 media works exploring visual texts in multiple environments
When: The show opens on July 17 and closes on August 29, 1998
Where: Aldo Castillo Gallery, 233 West Huron, Chicago, Illinois 60610
Web: The show can be seen at http://www.ekac.org/languageworks.html
Curatorial Essay: The Language Labyrinth by Julia Friedman
Review by Garrett Holg published in Artnews, November 1998.
Review by Pablo Helguera published in Art Nexus, January/April 1999.
---
The exhibition:
This month, Aldo Castillo Gallery presents "Language Works", an exhibition by Chicago artist Eduardo Kac curated by Julia Friedman. For 15 years Kac has been exploring the poetics of electronic and photonic media, investigating new writerly and readerly strategies. Of the thirteen works on display, six are digital and therefore can only be experienced directly on a computer. These six digital works include runtime animations, a hypertext, and a vrml (Virtual Reality Markup Language) piece. Kac is also showing four Iris prints, one hologram, one single-channel video, and a video installation.
Some of the pieces in the show are interactive and invite the viewer to navigate a textual space and discover new meanings along the way. The Iris prints and hologram undermine the fixity of the verbal sign on the two-dimensional surface, extending their semantic ambiguity to the unstable organization of the verbal material. Other works, notably the videos and animations, explore verbal rhythms that can only be created once language is removed from stable surfaces and is immersed in a malleable electronic space.
Kac states that "language plays a fundamental role in the constitution of our experiential world. To question the structure of language is to investigate how realities are constructed". For the artist, "language (particularly written language) is nothing but a transitional moment in a much more complex semiological continuum. The show explores this notion in multiple ways."
Biographical note:
Eduardo Kac is an artist and writer who works with electronic and photonic media, including telepresence, robotics, and the Internet. His work has been exhibited widely in the United States, Europe, and South America. Kac's works belong to the permanent collections of the Museum of Modern Art in New York, the Museum of Holography in Chicago, and the Museum of Modern Art in Rio de Janeiro, Brazil, among others. He is a member of the editorial board of the journal Leonardo, published by MIT Press. His anthology "New Media Poetry: Poetic Innovation and New Technologies" was published in 1996 as a special issue of the journal Visible Language, of which he was a guest editor. Writings by Kac on electronic art as well as articles about his work have appeared in several books, newspapers, magazines, and journals in many countries, including Argentina, Australia, Austria, Bolivia, Brazil, Finland, France, Germany, Holland, Hungary, Mexico, Paraguay, Portugal, Spain, Russia, Uruguay, United Kingdom, and United States. He is an Assistant Professor of Art and Technology at the School of the Art Institute of Chicago and a Ph.D. candidate in the Center for Advanced Inquiry in the Interactive Arts (CAiiA), at University of Wales College, Newport, United Kingdom.. Kac has received numerous grants and awards for his work.
Recent awards:
The Shearwater Foundation recently announced the award of $10,000 to Chicago-based artist and writer Eduardo Kac to support his work and research. The Florida-based Foundation does not accept applications and recognizes individual creative excellence within its stated areas of interest with annual awards. CEC International Partners, New York, also announced that Eduardo Kac was the recipient of an ArtsLink Award in the amount of $3,500, and noted that "the review panel was very impressed with the quality of Kac's creative work". Earlier this year Eduardo Kac received the 1998 Leonardo Award for Excellence, which is awarded annually to a Leonardo author for an article describing work judged to be excellent in the field of art/science and technology. Previous Leonardo award winners have included Rudolf Arnheim and Otto Piene.
Additional information:
For more information see Kac's web site at http://www.ekac.org
Aldo Castillo Gallery
Tel 312-337-2536
Fax 312-337-3627
---
Back to Kac Web