---
Review (Leonardo Reviews, January 2004)

"The slim, elegant volume The Eighth Day provides an illustrated introduction to Eduardo Kac's work, and lists URLs of online essays by Kac and others for further study."

Review (Neural, March 2005)

"The possibility to 'write' informations in living beings is one of the characteristics of transgenic art, an art form which Eduardo Kac helped create. Discussing our biological identity implies a profound cultural transformation, symbol of the beginning of this new millennium where the strategical importance of the tactical use of biomedia becomes clearer and clearer."
---
The Eighth Day: The Transgenic Art of Eduardo Kac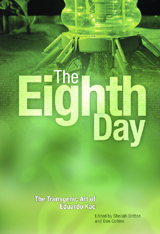 The Institute for Studies in the Arts, Arizona State University, 2003
Paperback, 180 pgs, 32 color images
ISBN: 0972429107

INTRODUCTION
Sheilah Britton and Dan Collins

EDUARDO KAC AND TRANSGENIC ART
Edward Lucie-Smith

PHILOSOPHY IN THE WILD?
Steve Baker

GFP BUNNY AND THE PLIGHT OF THE POSTHUMAN
Carol Becker

SPECTERS OF THE ANIMAL: THE TRANSGENIC WORK OF EDUARDO KAC
Gunalan Nadarajan

WHO IS IN CONTROL HERE? MEDITATING ON EDUARDO KAC'S TRANSGENIC ART
N. Katherine Hayles

TOWARDS TRANSGENIC ART
Arlindo Machado

TRACKING CHIMERAS: THE EIGHTH DAY
Dan Collins

SCIENCE IN A POST-MODERN WORLD
Alan Rawls, Jeanne Wilson-Rawls,William A. Rawls

---
Back to Kac Web